Solo Battle Royale in Warzone bietet eine einzigartige Gameplay-Dynamik, die sorgfältig ausgewählte Waffen und Setups erfordert. In Saison 5 werden neue Waffen und Verbesserungen eingeführt, die dein Solospiel entweder entscheiden oder zerstören können. In diesem detaillierten Leitfaden stellen wir die besten Waffen für den Solomodus in Al Mazrah vor, egal ob du ein Scharfschütze bist oder den Nahkampf bevorzugst.
MCPR-300 Scharfschütze Loadout
Die MCPR-300 ist der ideale Scharfschütze für öffentliche Kämpfe. Mit ihrer explosiven Munition kann sie sogar Gegner mit voller Panzerung mit einem Schuss ausschalten. Im Solomodus ist das schnelle Ausschalten von Gegnern mit einem einzigen Schuss von großem Vorteil.
-> MCPR-300 bestes loadouts für Warzone, Ranked, und Multiplayer.
ISO 45 Scharfschützen-Unterstützungseinrichtung
Wenn Sie die MCPR-300 verwenden, ist die ISO 45 Ihr idealer Begleiter für den Kampf auf mittlere Distanz. Dieses spezielle Setup bietet Ihnen etwas mehr Reichweite und Stabilität im Vergleich zum Standard-Meta-ISO 45 für den Nahkampf.
-> ISO 45 beste loadouts für Warzone, Rangliste und Multiplayer.
STB 556 Loadout
Die STB 556 ist in Bezug auf ihre Eigenschaften eine nahezu perfekte Waffe. Der einzige einschränkende Faktor sind die 42 Schuss Magazin, die im Solomodus viel weniger ins Gewicht fallen als im Teamspiel.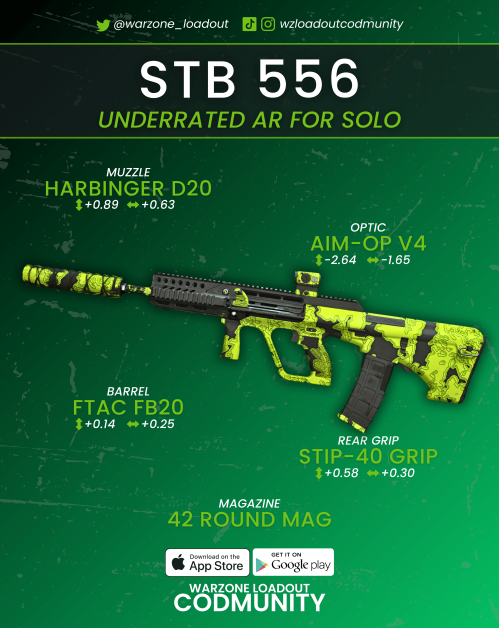 -> STB 556 best loadouts for Warzone, Ranked, and Multiplayer.
MX9 bauen
Die MX9 ist das Gegenstück der STB 556 für den Nahkampf. Seine geringere Größe Magazin ist im Solomodus kein Nachteil und macht ihn zu einer guten Wahl für Nahkämpfe.
-> MX9 best loadouts for Warzone, Ranked, and Multiplayer.
Lachmann Sub (MP5) Einrichtung
Die Lachmann Sub ist eine zuverlässige und beständige SMG. Mit ihrem stabilen Rückstoß und ihrem effektiven Schadensausstoß ist sie nicht nur im Ranglistenspiel, sondern auch im Solomodus eine beliebte Wahl.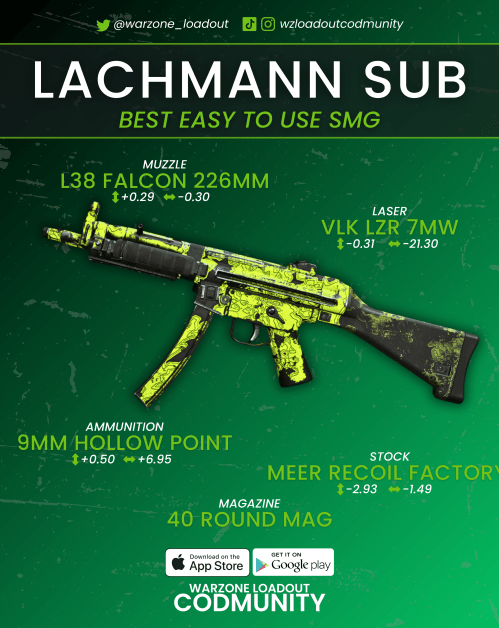 -> Lachmann Sub best loadouts für Warzone, Ranked, und Multiplayer.
Cronen Squall Klasse
Für Fernkämpfe ist die Cronen Squall die Meta-Waffe der Wahl in Saison 5. Sie ist einfach zu benutzen und ihr gleichmäßiger Rückstoß macht sie zu einem Muss für das Solospiel.
-> Cronen Squall beste loadouts für Warzone, Rangliste und Multiplayer.
Beste Perks für Warzone Solo Battle Royale
Ein gutes Extra Paket kann Ihr Solo-Spielerlebnis abrunden. Hier sind die besten Vergünstigungen, die Sie in Betracht ziehen sollten:
Overkill: Erlaubt das Tragen von zwei Primärwaffen.
Doppelte Zeit: Erhöht deine Bewegungsgeschwindigkeit.
Schnelle Hand mit Scharfschützen oder Ressuply mit anderen Waffen: Wählen Sie je nach Ihrer Primärwaffe.
High Alert oder Ghost: Abhängig von Ihrem Spielstil bietet eine dieser beiden Varianten erhebliche Vorteile.
Schlussfolgerung
Die Wahl der perfekten loadout ist entscheidend für ein erfolgreiches Solospiel in Warzone. Egal, ob du ein Fan des Scharfschützengefechts mit der MCPR-300 bist oder die ausgewogenen Fähigkeiten der STB 556 bevorzugst, dieser Leitfaden bietet dir alles, was du für Saison 5 brauchst.
Über die CODMunity-App
Für weitere angepasste Optionen loadout , laden Sie die Warzone loadout CODMunity-App herunter. Mit mehr als einer Million Downloads ist sie das beste Tool, um die besten Setups für jeden Warzone Modus zu finden, zusammen mit Ranglisten, Top 250 im Ranked Play, einem einzigartigen Camo-Tracker und mehr.