Sniping in Call of Duty: Modern Warfare 3 (MW3) is an exhilarating experience that requires precision, skill, and the right loadout. In this guide, we'll delve into the best loadouts for the three prominent MW3 snipers: Longbow, Katt-AMR, and KV Inhibitor, ensuring you have the edge in your sniping encounters.
1. Longbow Loadout – Agility Meets Precision
The Longbow is a dream come true for quick and mobile snipers, resembling the legendary Kar98k of Warzone fame. Here's the optimal loadout for the Longbow:
Barrel: PRO-99 LONG
Stock: NO STOCK
Magazine: 10 ROUND MAG
Ammunition: 7.62X39MM HIGH GRAIN
Rear Grip: DEMO 650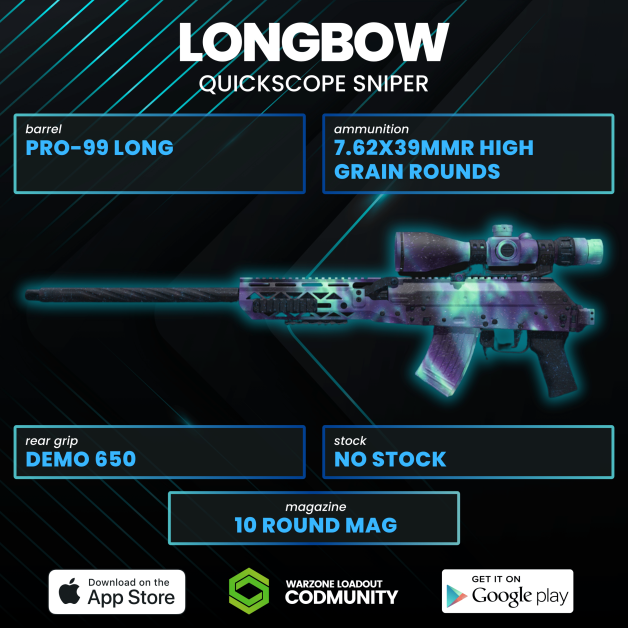 This loadout emphasizes speed and agility, allowing for rapid movement and quickscoping. The high-grain ammunition increases damage, making it lethal at various ranges.
2. Katt-AMR Loadout – Power and Control
The Katt-AMR is a powerhouse, ideal for players who prefer a more deliberate sniping style. It's reminiscent of the ZRG's potency in previous Warzone iterations. Here's the recommended loadout for the Katt-AMR:
Muzzle: SONIC SUPPRESSOR XL
Barrel: PERDITION 24″ SHORT
Optic: SZ BULLSEYE
Stock: TACTICAL STOCK PAD
Rear Grip: PHANTOM GRIP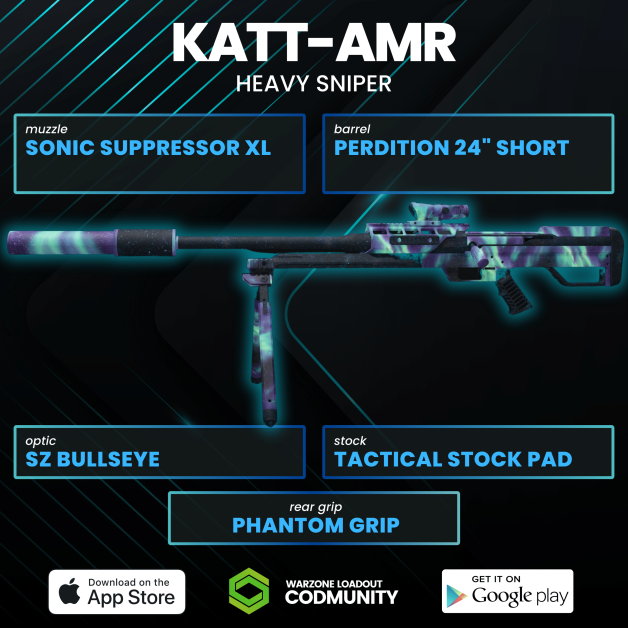 This setup ensures high damage output and superb control. The suppressor keeps you off the radar, while the optics provide a clear line of sight.
3. KV Inhibitor Loadout – The Versatile Hybrid
The KV Inhibitor stands as a hybrid, blending elements of the Longbow and Katt-AMR. It's versatile and could be a game-changer in Warzone 3. Here's the best loadout for the KV Inhibitor:
Muzzle: SHADOWSTRIKE SUPPRESSOR L
Barrel: KAS-DWORF HEAVY LONG
Optic: SZ BULLSEYE
Stock: HEAVY SUPPORT
Underbarrel: BRUEN PIVOT VERTICAL GRIP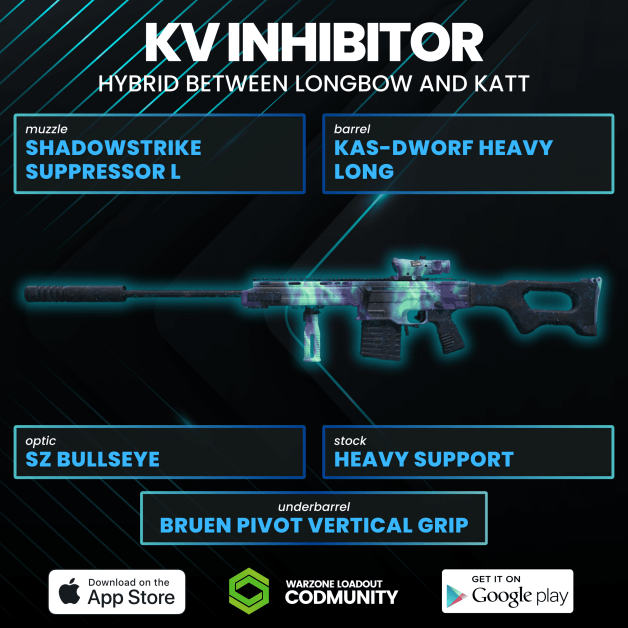 This combination offers a balance between mobility and firepower, suitable for various sniping strategies.
Conclusión
Whether you prefer the agility of the Longbow, the raw power of the Katt-AMR, or the versatility of the KV Inhibitor, these loadouts are designed to maximize your sniping prowess in MW3. Remember, the key to mastering sniping is not just the loadout but also practice and situational awareness.