Warzone 2 Season 3 is set to launch on April 12th, and with it comes a significant change to the world of sniping. No longer will players be disappointed with underpowered sniper rifles, as one-shot snipers are making a comeback! In this article, we explore the return of one-shot snipers, the balance they bring to Warzone 2, and the ultimate sniper loadout for Season 3.
The Problem with Snipers in Warzone 2
Until now, the player community has been let down by the lackluster performance of sniper rifles in Warzone 2. With low-recoil ARs like the ISO Hemlock dominating the game, snipers had become almost obsolete. The Signal 50 was the only viable option, thanks to its rapid-fire rate and ability to land two bullets in quick succession.
Enter One Shot Snipers: Season 3 brings a crucial change to the way snipers work in Warzone 2 – explosive bullets. These one-shot snipers pack a powerful punch, but they come with a trade-off: slow bullet velocity. This balance ensures that players must choose between one-shot kills and bullet speed, leading to more strategic gameplay.
The Perfect Sniper Loadout for Season 3
With one-shot snipers optimized for mid-range combat, it's time to explore the best loadouts for these powerful weapons. Here's a rundown of the essential components for the ultimate sniper loadout in Warzone 2 Season 3:
Nilsound Muzzle: This muzzle attachment provides excellent bullet velocity, making it perfect for mid-range sniping. Also, compared to other bullet velocity muzzles, this is the one with the smallest impact on ADS.
Long Barrel (when available): A long barrel increases your range and accuracy, further improving your sniping capabilities.
ADS Laser: The ADS laser helps you acquire targets more quickly, giving you the edge in fast-paced engagements. Look for the FSS OLE-V laser or the VLK LZR 7mw.
Forge Tac Optic: This hybrid optic offers just the right amount of zoom for mid-range sniping, without sacrificing peripheral vision.
Explosive ammunition: this is now becoming a must to be able to one shot.
Conclusion: Warzone 2 Season 3 promises to revitalize the sniping experience with the introduction of one-shot snipers. By carefully choosing your loadout, you can optimize your sniper for mid-range engagements and become a force to be reckoned with on the battlefield. Embrace the return of one-shot snipers, and get ready to dominate in Warzone 2 Season 3!
Best MCPR-300 one shot loadout for warzone 2
Scharfschütze
Best VICTUS XMR one shot loadout for warzone 2
Scharfschütze

Best FJX IMPERIUM one shot loadout for warzone 2
Scharfschütze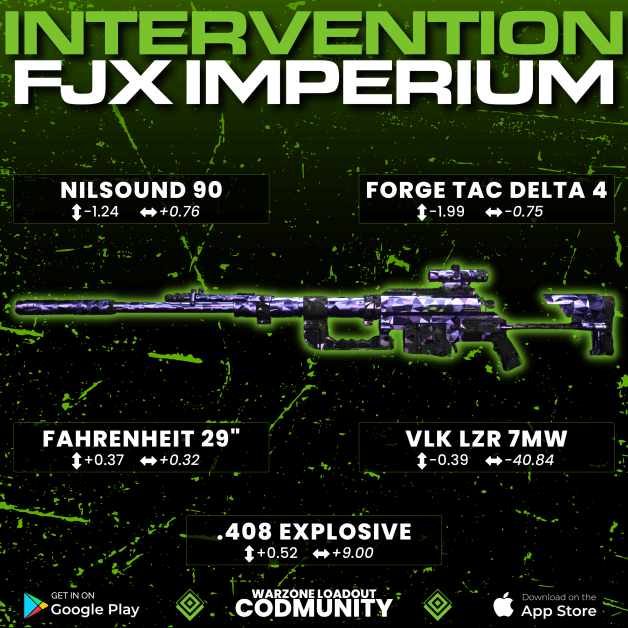 Warzone 2 Season 3 breathes new life into sniping with the comeback of one-shot snipers. Master your mid-range engagements by choosing the right loadout and prepare to dominate the battlefield in this new era of sniping.