Today's article is all about Ashika Island and the best loadouts you should use to dominate your lobbies. So I will start by mentioning what are, in my opinion, the best Perks to use in Resurgence and then we will dive into each loadout combo individually with a primary and a secondary weapon.
Best perks to use for ashika island
Since the launch of season 2, everyone can customize their perk packages, and even if I believe it is a little bit too overpowered to have overkill, ghost, and resupply simultaneously in Al Mazrah, I will still give you the best combos for Ashika Island.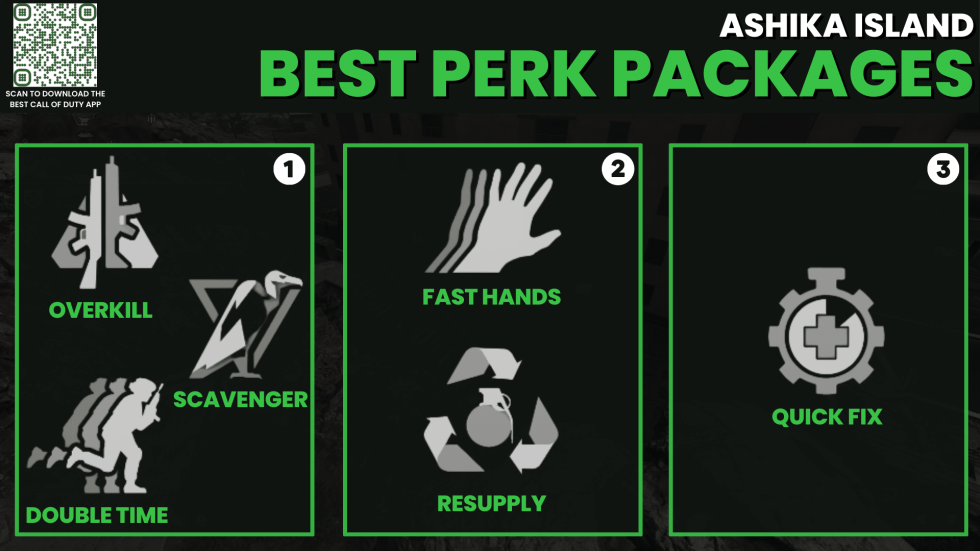 For the first perks, you could choose to have Overkill and have two good weapons directly, or you could also decide not to grab overkill and buy your secondary weapon at the buy stations. It's very easy to do. Scavenger is excellent because you will get extra plates on your enemy's bodies, and finally, double time is a must to run around everywhere on the map.
Then for the second slot, you have two excellent options. Fast hands can be handy if you want to reload and swap weapons faster. But my favorite is Resupply always to be able to restock your lethal and tactical. With that, you can have unlimited Smokes, Stuns, or even drill charges, so I will always go with Resupply.
Finally, like in multiplayer, the last perk I recommend is Quick Fix. This is incredible to start your health regeneration faster, and in a very dynamic mode like Ashika Island, this is a significant feature.
Best loadouts for ashika island
Underrated – TAQ V and VEL 46
So let's start the five loadout combos with a very underrated one. If you play aggressively and can handle a small amount of recoil, you will have a lot of fun with the TAQ-V paired with the VEL 46. I will not detail each attachment of the loadouts otherwise, the video will last 20 minutes, and I like to keep it short for you. I will mention that this TAQ-V loadout uses the very clean iron sight, but if you need a scope, you can always swap the high-velocity ammunition for a Cronen Mini pro optic. The VEL 46 has excellent mobility, low recoil, and a good time to kill, that's why I believe the MP7 deserves a little bit more love.
All ranges – Rapp H and Lachmann Sub
The second loadout might be one of the best combos on the island. The Rapp-h is insane when it comes to mid-range engagements so that is why it is perfect for Resurgence. You could also swap the Rapp with a Sakin or an RPK but trust me on the Rapp, you'll love it.
This MP5 loadout is very aggressive, considering we use the Stockless mod that significantly improves mobility but also increases the recoil. If this build has too much recoil, swipe the stock with an underbarrel for more control.
Damage loadout: Kastov 762 and Fennec 45
The following loadout is the one I like to call the Damage loadout. Both guns have best-in-class time to kill; you will shred with it if you are a skilled player. Despite a slight nerf to the Kastov 762 and the Fennec, they are still excellent. However, they require more recoil control than other guns. View this loadout as a high-risk, high reward: you get a better time to kill but a little harder to use a combo. Considering the fights are shorter-ranged than in Al Mazrah, you should be perfectly fine using the Kastov 762 and the Fennec.
Please note that both the Kastov and the Fennec have been nerfed.
Sniper loadout
With season 2, we now have one-shot snipers in the game, and I love it. (Update: it's been patched and not the case anymore). Snipers should be able to one shot, but they should also be hard to use to balance it. The best sniper right now is the MCPR, mainly because the one-shot range is really far, up to approximately 200 meters, and you can build it with a perfect ADS time. This loadout you see here is tailored for Ashika Island with a smaller scope than the default one and no barrel for bullet velocity. Pair the MCPR with the Chimera, a crazy sniper support option with great mobility, low recoil, and a good time to kill. You could also swap the Chimera with a sniper support loadout of the Iso or the Kastov 74u.
Absolute meta for ashika island: ISO Hemlock and KV Broadside
Finally, i kept the best for the end with an overpowered loadout in Ashika Island. The ISO is straightforward to use, has insane time to kill, and has excellent mobility, so it is only natural that I rank it as absolute meta for the small map! I was a massive fan of the Kilo meta back in Warzone 1, and the ISO is giving me the same feeling. Then, the KV Broadside shotgun is the most broken gun in the game right now, and it's only a matter of days before all the lobbies are infested with it. You can destroy an entire squad with a single magazine, and even if it's fun to use it, it is not that fun to be killed by it.