Many of you are playing Vanguard today to prepare for the Warzone integration and the launch of the Caldera map. By leveling up your Vanguard guns now, you will be able to use them in the most perfect way and with the best loadout as soon as you can on Warzone the 2nd of December. This article is your guide to level up vanguard guns in the most efficient way.
Sadly the weapon leveling is super slow and it will take you hours to have only one weapon maxed out. Hopefully the developpers will ease the process in the future but we are all onboarding a crazy long journey here. Of course you should leverage the Double XP token and the future double XP week-ends!
The bad new is that on the contrary to Cold War, the Zombies will not be a better option that multiplayer to level up guns. Indeed as JGOD described in his last video, you would need approximately 12'000 zombies kills to max a normal weapon with 70 levels!
Join a clan and get a boost of xp
One of the great feature of Vanguard at launch is definitely the Clan system. Much better than the old regiment system from Warzone. You can now have up to 100 members in 1 clan and you have way more personalisation possible (Emblems, Privacy, Colors, etc.). The other cool things about Clan is that you can level up the XP of the clan itself to unlock more customization options. But the best part is that if you play games with other clan members, you'll get a boost in XP (something like 10% more).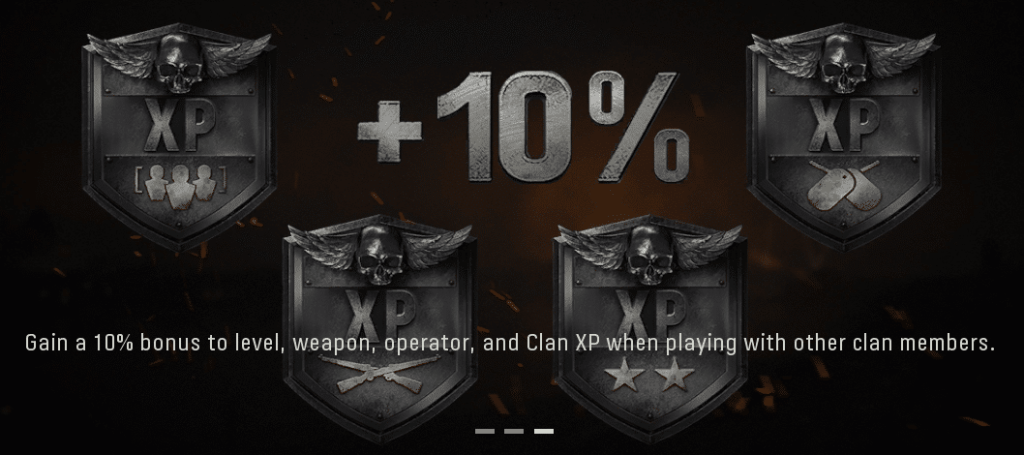 If you are looking for an active clan you can join the official Warzone Loadout clan with the clan ID "WzL". We'll be happy to play with you and get that extra 10% xp! With a limit of 100 members obviously.
Play with the right operator
A new particularity introduced with Vanguard is also the relation between an operator and a specific weapon. If you use the operator corresponding to the weapon, you'll get extra XP too! And you'll get XP also simply by leveling up your operator!
For example if you want to level up the MP-40 (probably the best SMG in the game) you should use the operator Halima as she is the operator associated with the MP-40.
Complete challenges
If you go to the challenges tab you'll see a lot of challenges that you can achieve and obtain XP in rewards! Do them and you'll level up faster! Not sure yet if this will impact weapon leveling, but at least you'll unlock them faster 🙂 Especially considering some of them are very easy!
Use the perk " Surplus "
For each weapon, one of the perk KIT is called "Surplus". This will allow you to get additional XP for each kills!
That's all! If we identify new and better ways to upgrade weapons in Vanguard, we'll make sure to update this article 🙂
Have a nice day!