Erlebe den Nervenkitzel eines Squad-basierten Wettlaufs um Geld, die Ausweitung von Resurgence auf neue Schauplätze und ein Launch-Event mit exklusiven Waffen-Blaupausen und Operator-Skins, die nur für eine begrenzte Zeit verfügbar sind. Season 03 wird Call of Duty: Warzone 2.0 verändern, insbesondere in DMZ, da Infinity Ward in diesem Update mehrere wichtige Neuerungen einführt. In anderen Warzone Modi führt Raven Software Plunder und mehrere Resurgence-Modi auf Al Mazrah wieder ein. Machen Sie sich bereit, Ihre persönliche Meta in Warzone 2.0 neu zu definieren.
Diejenigen, die die komplette Liste der nerfs und buffs , die mit Saison 03 kommen, erfahren möchten, müssen nicht mehr lange warten! Diesen Mittwoch, sobald die Patchnotizen veröffentlicht werden, könnt ihr alle Details direkt in der CODMunity-App finden. Die App bietet nicht nur Updates zu den Balancing-Änderungen, sondern präsentiert auch aktualisierte loadouts und bestätigt alle One-Shot-Sniper, damit ihr euch besser auf das neue Meta einstellen könnt. Ladet euch die CODMunity-App herunter und bleibt über jeden Aspekt des Spiels informiert, um ein nahtloses Spielerlebnis zu gewährleisten.
ALLGEMEINE ÜBERSICHT
Resurgence Redux: Massive Resurgence wird während Saison 03 in wöchentlichen Playlist-Updates vorgestellt.
Neuer Gulag und wiederkehrende Features: Entdecken Sie Blacksite, setzen Sie Drohnen in Al Mazrah ein und vieles mehr in diesem saisonalen Update.
Zeit für die Trophäenjagd: Sammeln Sie während des Launch-Events Trophäen und tauschen Sie sie gegen dauerhafte Gegenstände wie Waffen-Blaupausen und Operator-Skins ein.
Plunder 2.0: Verdiene permanente Belohnungen und entdecke neue Wege, um in Spielen Cash zu sammeln, denn Plunder kehrt in Saison 03 zurück.
Patch-Notizen werden diese Woche veröffentlicht: Bleibt dran für eine umfassende Aufschlüsselung aller Änderungen, die mit diesem Update kommen, präsentiert von unseren Studios.
Massiver Wiederaufschwung
Wenn du ein Fan von Resurgence bist, bereite dich auf die Erweiterung Al Mazrah in Warzone 2.0 während Saison 03 vor. Erlebe Massive Resurgence zum Start mit der gesamten Karte Al Mazrah und bis zu 150 Spielern, die in speziellen Squad-Größen wie Quads oder Trios antreten. Erwartet intensive Action auf der gesamten Karte, vor allem während des Zusammenbruchs des letzten Kreises, wenn mehrere Squads noch stark sind.
Der neue Gulag: Leitfaden für Blacksite
Standard-Battle-Royale-Spieler können sich auf einen neuen 1v1-Gulag freuen - Blacksite - wenn sie in den frühen Phasen eines Battle Royale ausgeschaltet werden. Blacksite ist eine rechteckige, asymmetrische Karte mit verschiedenen Innenräumen und langen Außenwegen. Diese Karte eignet sich perfekt für den Einsatz von Fernwaffen oder für Nahkämpfe und ist auch in Gunfight enthalten, dem wiederkehrenden 2v2-Multiplayer-Modus in Call of Duty®: Modern Warfare® II.
Drohnen, Perk Packs und mehr neu verteilen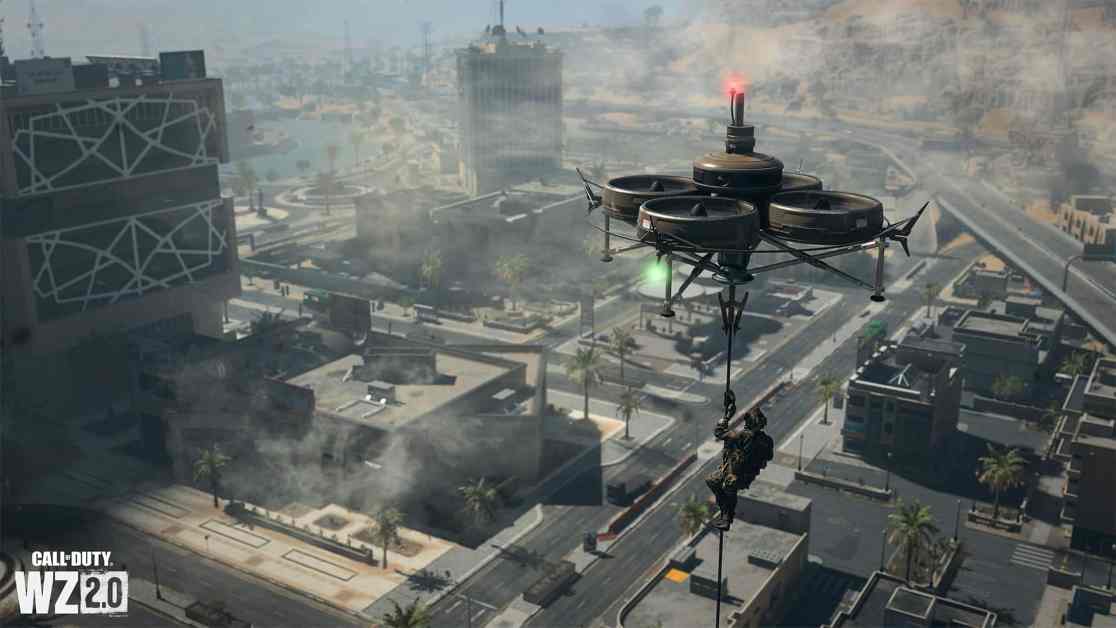 Saison 03 bringt neue und wiederkehrende Features für alle Modi von Warzone 2.0, wie z.B. die Neuaufstellung von Drohnen, die ab dem 13. April auf Al Mazrah landen. In der Mitte der Saison werden Perk Packs eingeführt, eine spielverändernde Ergänzung, die eurem Operator passive Vorteile bietet.
WSOW Open Playlist
Mach dich bereit für die zeitlich begrenzte WSOW™ Open Playlist vom 27. bis 30. April und erfahre, wie du dich für den Stage I Qualifier qualifizieren kannst. Außerdem wirst du wahrscheinlich dem offiziellen CODMunity-Team folgen können, also halte dich auf dem Laufenden!
Trophäenjagd Startveranstaltung Details
Sammelt Trophäen während des zeitlich begrenzten Trophäenjagd-Start-Events und tauscht sie gegen eine Vielzahl von Belohnungen ein, darunter Rufkarten, doppelte XP-Marken und zwei Waffen-Blaupausen. Außerdem gibt es zwei Operator-Skins als Belohnungen für den Abschluss.
Plünderung: Bereiten Sie sich mit diesem Mini-Leitfaden auf die Saisoneröffnung vor
Plünderung, ein Squad-basierter Respawn-Modus, in dem Geld die Hauptrolle spielt, kehrt in Saison 03 auf Warzone 2.0 zurück. Diese neue Version bietet Änderungen am In-Match-Ereignissystem, neue Buy Station-Gegenstände und permanente Belohnungen. Er wird später in der Saison und nicht zum Start erscheinen, also haltet euch bereit!
Mehr Informationen in den Patch Notes
Bleibt dran für den Start von Saison 03 am 15. April und beobachtet alle Daten und das Feedback der Spieler für zukünftige Patches und Updates. Erwarten Sie die Rückkehr der One-Shot-Scharfschützengewehre und eine Änderung der Standorte der Kaufstationen für mehr Sicherheit. Folgen Sie allen Call of Duty-Konten in den sozialen Medien und lesen Sie den Call of Duty-Blog, um die neuesten Nachrichten und Ankündigungen zu erhalten. Weitere Informationen zu Season 03 von Modern Warfare II und Warzone 2.0 finden Sie auf den offiziellen Call of Duty-Kanälen. In den Community-Foren und auf den Social-Media-Plattformen finden Sie die neuesten Updates, Tipps und Strategien, die Ihnen helfen, der Konkurrenz in dieser aufregenden neuen Saison voraus zu sein.