The M4 has long been a staple in the Call of Duty arsenal. Its legacy as a fan-favorite assault rifle is undeniable, and its reputation has been carried forward into the world of Warzone. In a game where the meta is ever-evolving, the M4 stands as the "Old Reliable" – a weapon that remains steadfast and dependable regardless of the season or the competition. Whether you're a seasoned player or a newcomer, the M4 is a weapon that won't let you down. Let's delve into the best loadouts for the M4 in Season 5.
Best M4 Loadout for Long Range
Long-range engagements are inevitable in the vast landscapes of Al Mazrah or Vondel. Whether you're holding down a rooftop or taking shots across the open fields, the M4 can be tailored to be a formidable long-range weapon. This loadout prioritizes accuracy, range, and control, ensuring that you can land those crucial shots even from a distance.
Long Range

Best M4 Loadout for Sniper Support
For those who prefer the precision of a sniper rifle but need a reliable secondary for unexpected close encounters, the M4 can be the perfect companion. This loadout emphasizes mobility and rapid response, ensuring you're never caught off guard.
Sniper Support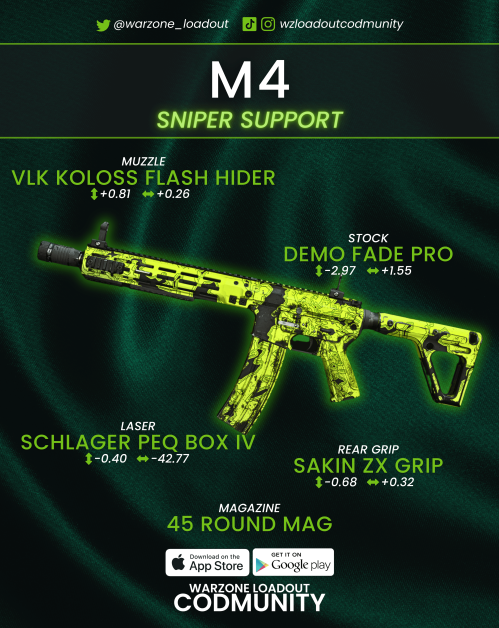 Conclusion
The M4's versatility is its strength. Whether you're looking for long-range dominance or a trusty sidekick for your sniper loadout, the M4 has got you covered. As Warzone Season 5 unfolds, the "Old Reliable" continues to prove its worth, solidifying its place in Call of Duty history. Equip it, master it, and let the M4 lead you to victory.