The Rival-9 SMG has emerged as a standout in the latest iteration of MW3, known for its agility and quick room-clearing capabilities. It's a lightweight, 9mm SMG that has garnered favor among CDL professionals for its consistency, reliability, and lethal efficiency. Here are two of the best loadouts for the Rival-9, catering to different playstyles and scenarios in MW3.
Close Range Multiplayer Loadout Rival 9
Muzzle: SHADOWSTRIKE SUPPRESSOR S
Stock: EXF CLOSE QUARTERS ASSAULT
Underbarrel: CHEWK ANGLED GRIP
Magazine: 40 ROUND MAG
Rear Grip: RIVAL VICE ASSAULT GRIP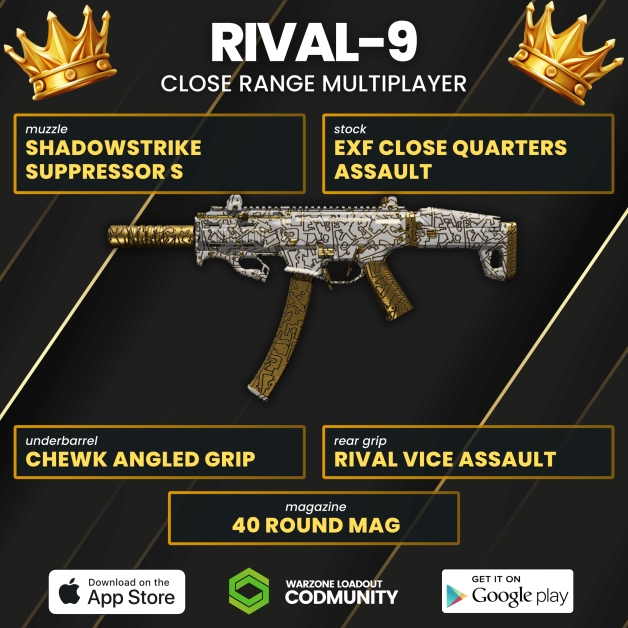 This loadout is tailored for small maps, where close-quarter combat is frequent. The chosen attachments enhance the Rival-9's agility and quick response time, making it ideal for players who like to be on the move and engage in rapid, close-range firefights.
This configuration boosts the weapon's stealth with the suppressor, while the stock and grip improve maneuverability and stability. The extended magazine ensures you can take on multiple enemies without the immediate need to reload.
Easy-to-Use and Reliable Rival-9 Loadout with Scope
Muzzle: SPIRAL V3.5 FLASH HIDER
Barrel: RIVAL-C CLEARSHOT
Optic: MK. 3 REFLECTOR
Magazine: 40 ROUND MAG
Ammunition: 9MM HIGH GRAIN ROUNDS
Designed for players who prefer a more balanced approach with an emphasis on accuracy, this loadout incorporates a scope for better aim and attachments that enhance the weapon's overall performance.
This setup focuses on precision and control. The flash hider minimizes muzzle flash, aiding in keeping your position concealed. The Clearshot barrel and MK. 3 Reflector optics provide enhanced accuracy for mid-range engagements, while the high grain rounds pack a heavier punch.
---
Both these loadouts make the Rival-9 a formidable weapon in MW3. The choice between them depends on your playstyle and the specific demands of the maps and matches you engage in. The Close Range Multiplayer loadout is perfect for aggressive, fast-paced gameplay, whereas the second loadout with a scope offers a more balanced approach, suitable for varied combat scenarios.