Introduction
The landscape of Warzone is ever-changing, and with the latest update, the M13B has emerged as the new king of Assault Rifles. This weapon has received a significant buff, making it a formidable choice for both Ranked Play in Al Mazrah and Resurgence modes in Vondel, Ashika Island, and soon Fort Resurgence. With increased damage multipliers across all locations, the M13B now boasts the best time-to-kill (TTK) among all ARs, only rivaled by the Kastov 762. In this article, we'll delve into the best loadouts for the M13B, focusing on long-range and sniper support setups.
Long Range Loadout
This build is optimized for long-range engagements, offering a balanced mix of accuracy, range, and damage. You need the Harbinger and the barrel for the damage range increase and bullet velocity. If bullet velocity is still an issue and recoil is okay for you, then remove the FTAC Ripper for the High-Velocity ammo, and this thing will be
–> M13B best loadouts for Warzone, Ranked and Multiplayer.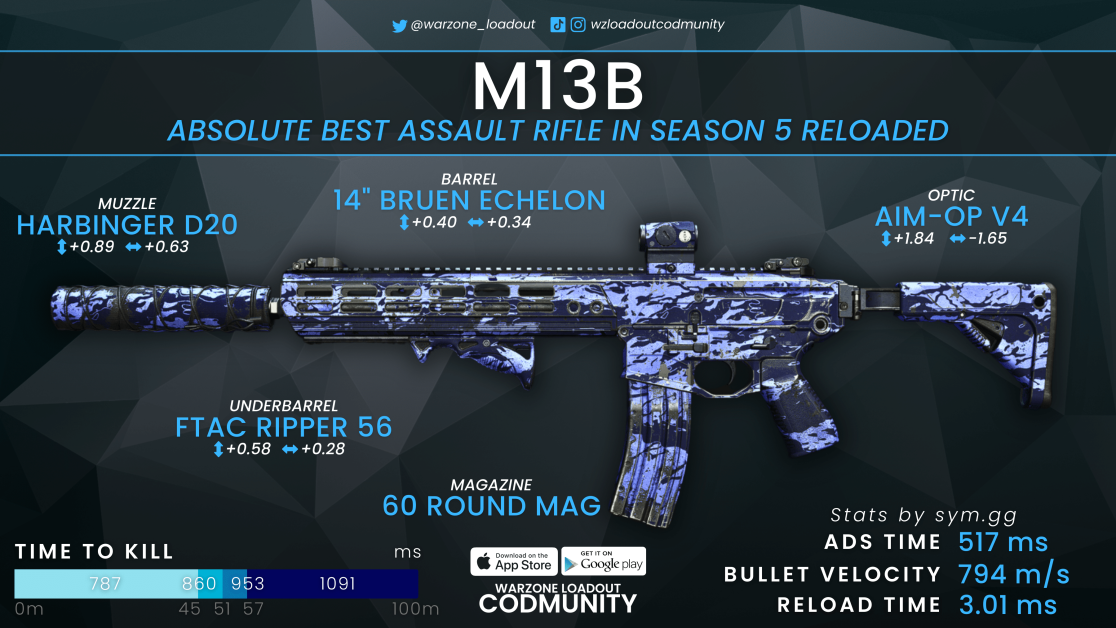 Sniper Support Loadout
This setup is designed to complement a sniper rifle, offering versatility in mid-range combat.
–> M13B best loadouts for Warzone, Ranked and Multiplayer.
Conclusion
The M13B has risen to prominence as the best Assault Rifle in Warzone, especially in Resurgence modes. With its recent buff, it's a force to be reckoned with, offering unparalleled TTK and versatility. Whether you're looking for a long-range build or a sniper support setup, the M13B has you covered.
Warzone Loadout CODMunity App
If you're looking to easily find the best loadouts for any Warzone mode, consider downloading the Warzone loadout CODMunity app. With over a million downloads, this app is the best tool available on the market. It not only helps you find the best setups but also provides rankings, top 250 in Ranked Play, a unique camo tracker, and more!