The M13C is a powerhouse in the Warzone universe, especially when it comes to short-range engagements. Often considered the little sister of the M13B, the M13C is highly comparable to the Chimera and currently stands as one of the best sniper support weapons in the game. Whether you're playing on Al Mazrah in Ranked Play or engaging in a regular Battle Royale, this weapon is a must-have in your arsenal. In this article, we'll explore the best M13C loadouts for long-range and sniper support roles.
Best M13C Long-Range Loadout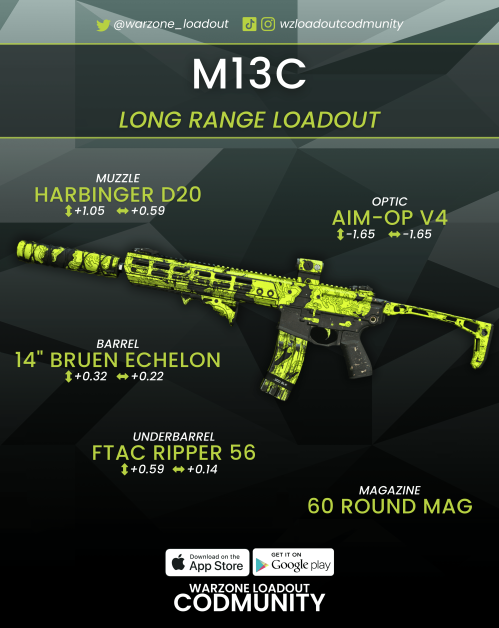 When it comes to long-range engagements in Warzone, especially on expansive maps like Al Mazrah, you need a weapon that can deliver both accuracy and power. The M13C, with its exceptional rate of fire and manageable recoil, is a top-tier choice for those looking to dominate from a distance. Our long-range build focuses on maximizing bullet velocity, range, and stability, ensuring that you can take down enemies before they even get close. With attachments like the HARBINGER D20 muzzle and the 14″ BRUEN ECHELON barrel, this loadout is designed to make each shot count, giving you the upper hand in long-range firefights.
–> M13C best loadouts for Warzone, Ranked and Multiplayer.
Best M13C Sniper Support Loadout
Sniper support is a unique role that requires a weapon capable of quick target acquisition and reliable damage output. The M13C shines in this role, particularly on maps like Vondel and Ashika Island where sniping is prevalent. This sniper support build is tailored to complement your primary sniper rifle, allowing you to quickly switch and finish off enemies that your sniper shots have weakened. With attachments like the KOMODO HEAVY muzzle and the CRONEN MINI PRO optic, this setup is optimized for quick aiming and high mobility. It's the perfect loadout for those who want to be agile yet deadly, making it an invaluable addition to any sniper's toolkit.
–> M13C best loadouts for Warzone, Ranked and Multiplayer.
How to Unlock the M13C
To unlock the M13C, you'll need to get 35 hipfire kills using an Assault Rifle. The best way to achieve this is by playing in Shipment 24/7 with a hipfire Chimera setup.
Conclusion
The M13C is a versatile weapon that excels in both long-range and sniper support roles. Whether you're playing on Al Mazrah or Vondel, these loadouts will help you dominate the battlefield. For more insights, don't forget to check out the Warzone loadout CODMunity app. With over a million downloads, this app is the best tool available to easily find the best loadouts for any Warzone mode, get rankings, top 250 ranked play, unique camo tracker, and more!