The Warzone meta is constantly evolving, and with the recent nerfs to the Cronen Squall, we've entered an Assault Rifle-dominated landscape. Whether you're grinding in Ranked Play on Al Mazrah or battling it out in Resurgence modes like Vondel, Ashika Island, and Fort Resurgence, two Assault Rifles have risen to the top: the Kastov 762 and the M13B. In this article, we'll break down the best loadouts for these two powerhouse weapons.
Kastov 762: The Skilled Player's Choice
The Kastov 762 is a weapon that rewards skilled players. It packs a punch but comes with a recoil pattern that requires a bit of mastery. However, it's not as difficult as some might think.
The Sakin Compensator is excellent for controlling vertical recoil, while the choice between ZLR Talon or high-velocity rounds will give you the bullet velocity needed to compete at range. Bullet velocity is crucial when going up against LMGs or Battle Rifles like the Cronen in Al Mazrah. If you opt for a build with a Compensator, Underbarrel, and Barrel but no high-velocity rounds, you'll be stuck with a 600 m/s bullet velocity, which isn't ideal for long-range engagements.
For optics, while the AIM-OP is a popular choice, the SZ Recharge offers a great alternative, adding diversity to your loadout.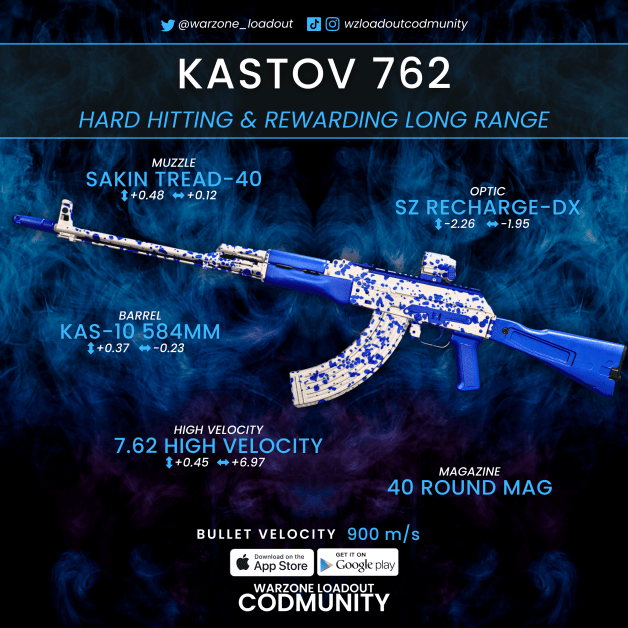 –> Kastov 762 best loadouts for Warzone, Ranked and Multiplayer.
Note: Bullet velocity is less crucial in Resurgence modes, and you can find tailored loadouts for it directly in the CODMunity app.
M13B: The Everyman's Weapon
The M13B is an excellent choice for players looking for an easy-to-use, comfortable weapon. With its strong fire rate, it's a reliable pick for any situation.
The FTAC Ripper is essential for maintaining a consistent and easy recoil pattern. Coupled with the Harbinger Suppressor, Long Barrel, AIM-OP optic, and Big Mag, this setup is perfect for players of all skill levels.
–> M13B best loadouts for Warzone, Ranked and Multiplayer.
Warzone Loadout CODMunity App
For those looking to take their game to the next level, the Warzone loadout CODMunity app is a must-have. With over a million downloads, this app is the best tool available for finding the perfect loadout for any Warzone mode. It also offers rankings, top 250 in Ranked Play, a unique camo tracker, and much more!