Season 3 of Warzone 2 has brought back the beloved one-shot snipers, and players are eager to dominate the battlefield with these long-range weapons. However, a powerful sniper rifle is only as good as its secondary weapon. Introducing the Chimera, Cronen Squall, and STB 556, three exceptional sniper supports that will make your loadout unstoppable in Warzone 2 Season 3.
Chimera: The Agile Assault Rifle
The Chimera has emerged as a top choice for sniper support in Season 3, boasting excellent mobility and a rapid time-to-kill. This versatile assault rifle excels in close to mid-range combat, allowing players to quickly eliminate enemies up close while their sniper handles long-range targets. The Chimera's impressive mobility ensures you can quickly reposition and stay one step ahead of your opponents.
Sniper Support
STB 556: The User-Friendly Choice
Recently buffed in Season 3, the STB 556 has become an exceptional sniper support weapon, offering low recoil and ease of use. Its stable performance allows players of all skill levels to engage in mid to long-range battles confidently. The STB 556's accessibility makes it a popular option for those looking to complement their sniper loadout without sacrificing reliability.
Sniper Support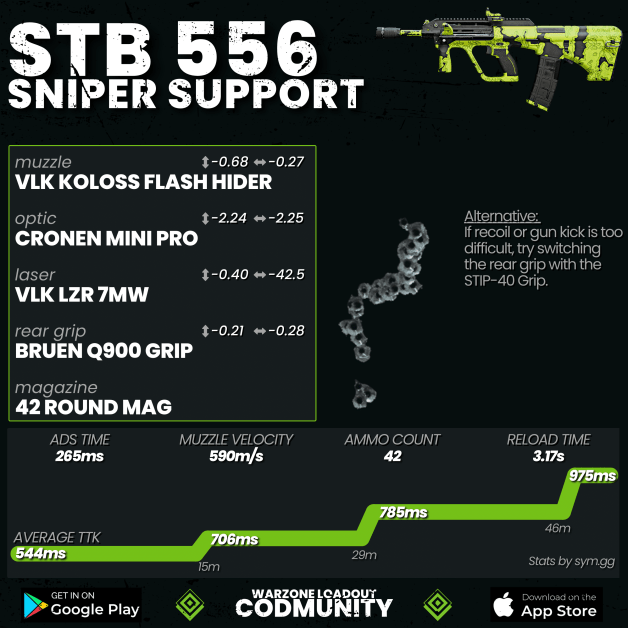 Cronen Squall: The Battle Rifle Surprise
It might be surprising to see a battle rifle like the Cronen Squall featured among the top sniper support weapons, but its impressive time-to-kill and mobility make it a force to be reckoned with. The Cronen Squall is perfect for aggressive players who want to push the pace and engage in close-quarters combat while their sniper rifle handles distant targets. Its quick handling and high damage output make the Cronen Squall a viable choice for those looking to diversify their loadout.
Sniper Support

Conclusion
The Chimera, Cronen Squall, and STB 556 are three formidable sniper support weapons that will help you dominate the battlefield in Warzone 2 Season 3. Each weapon offers unique strengths, allowing players to tailor their loadout to their preferred playstyle. Whether you're looking for agility, ease of use, or a surprising twist, these weapons have you covered as you unleash the full potential of your sniper rifle in the new season.