LMGs in Warzone are often overlooked because of their slow mobility, but their exceptional power makes them a viable primary weapon. Ever since the launch of Warzone 2, LMGs have consistently been meta, boasting impressive time-to-kill (TTK) metrics. The challenge lies in balancing mobility, damage range, and low recoil when creating your perfect LMG build.
Ranking of LMGs in Warzone Season 6
The rankings of LMGs in Season 6 are subjective, but a comprehensive look at key stats like TTK, ADS speed, mobility, recoil, damage range, and bullet velocity paint a clear picture. Here's the ranking of all six LMGs available in the game in season 6:
556 Icarus
RPK
HCR 56
Rapp H
Raal MG
Sakin Mg38
Best 556 Icarus Loadout: Underrated & Great in Resurgence
The 556 Icarus is an underrated choice, particularly effective in the Resurgence game mode on maps like Vondel and Ashika Island. The gun's primary drawback is its difficulty to control at range.
–> 556 Icarus best loadouts for Warzone, Ranked and Multiplayer.
Best RPK Loadout: Once the Absolute Meta
The RPK has been nerfed multiple times and while it's still a reliable setup, it no longer holds its prime position in the LMG class.
–> RPK best loadouts for Warzone, Ranked and Multiplayer.
Best HCR 56 Loadout: Easy & Great Mobility
The HCR 56 offers ease of use and surprisingly good mobility for an LMG. Its characteristics almost resemble those of an Assault Rifle, making it versatile across different game modes.
–> HCR 56 best loadouts for Warzone, Ranked and Multiplayer.
Best Rapp H Loadout: Hard Hitting but Difficult to Master
The Rapp H is a high-damage machine but requires some practice to control its recoil effectively.
–> Rapp H best loadouts for Warzone, Ranked and Multiplayer.
Best Raal MG Loadout: Extremely Slow but Deadly
The Raal MG is an exceptionally slow weapon but compensates with its deadly accuracy. The smaller magazine size improves mobility without sacrificing too much firepower.
–> Raal MG best loadouts for Warzone, Ranked and Multiplayer.
Best Sakin Mg38 Loadout: The Best LMG in Warzone
The Sakin Mg38 takes the top spot for its almost non-existent recoil, making it the easiest to use LMG in Warzone and potentially the entire game.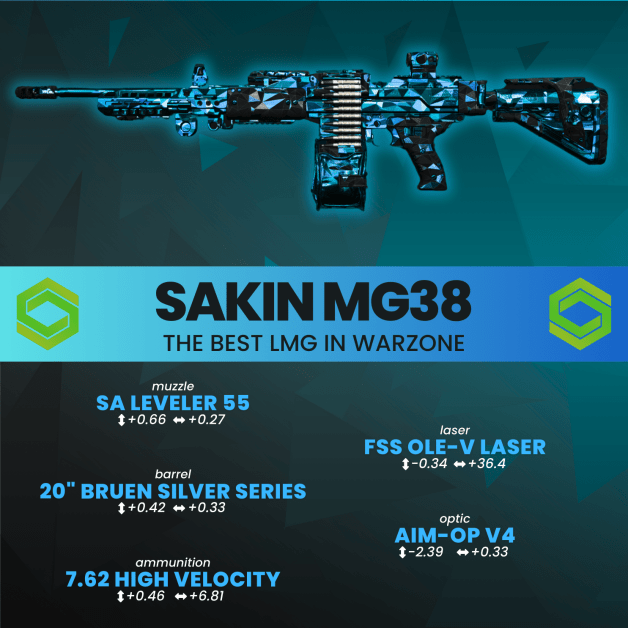 –> Sakin Mg38 best loadouts for Warzone, Ranked and Multiplayer.
Conclusion
When it comes to dominating the battlefield in Warzone, whether you're skirmishing in the streets of Al Mazrah or aiming for victory in Resurgence modes on Vondel and Ashika Island, choosing the right LMG can be a game-changer. Each LMG brings a unique set of characteristics to the table; some excel in dealing damage at long ranges, while others offer better mobility or accuracy. The ideal setup, or loadout, maximizes these characteristics, balancing mobility, accuracy, and power.
This guide aims to furnish you with the most effective LMG loadouts for Warzone Season 6, taking into consideration factors like TTK, ADS speed, mobility, and recoil. If you heed the setups we've outlined, you'll find yourself well-equipped to take on any challenge Warzone throws your way.
Warzone Loadout CODMunity App
Don't forget to check out the Warzone Loadout CODMunity app available on iOS and Android. With over a million downloads, this tool is the ultimate guide for Warzone players. It not only helps you find the most effective loadouts for each game mode, but also gives you access to rankings, a list of the top 250 players in Ranked Play, and even a unique camo tracker feature. A treasure trove of resources, this app is designed to help you climb the ranks and secure more victories.