With Warzone constantly evolving, solo battle royale has become an entirely different battlefield compared to playing in trios or quads. Your needs change, priorities shift, and the right weapon build can make or break your game. So, what should you focus on when playing Warzone solo? While the internet is flooded with meta loadouts tailored for team games, finding the ideal solo loadout is a task in itself.
Enter STB 556 assault rifle and MX9 SMG—two weapons that, when properly kitted, can give you the upper hand in solo matches. However, the weapon meta doesn't stop there. Guns like Kastov 762, Tr-76 Geist, Lachmann Sub, ISO 9mm, MCPR-300 sniper, Chimera, and M13C are also obviously top contenders. In this guide, we'll delve deep into these weapons and the optimal setups that make them unbeatable in solo Warzone games.
Best guns to use in Warzone Solo:
STB 556
MX9
Lockwood 300
Kastov 762
Tr-76 Geist
Lachmann Sub
ISO 9mm
MCPR-300
Chimera
M13C
Best STB 556 Warzone Loadout for Solo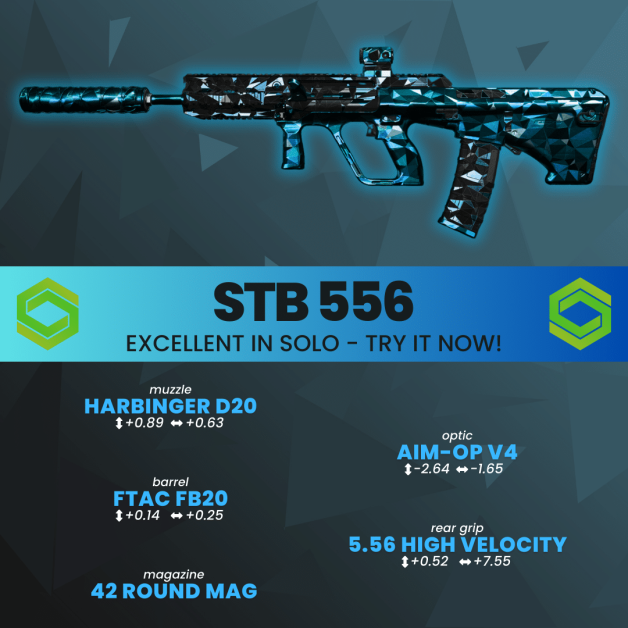 The STB 556 is often overshadowed by other assault rifles in the game, but when it comes to solo play, this weapon is an underrated gem. With an excellent time-to-kill (TTK) ratio, the STB 556 excels in mid to long-range combat. While the smaller magazine size might be seen as a limitation in team modes, it's hardly a problem in solo play where you're primarily focused on taking down single targets.
Best MX9 SMG Warzone Loadout for Solo
The MX9 submachine gun is like the dark horse that suddenly surged ahead in the Warzone meta, especially for solo players. Having received multiple buffs, it's a weapon that you just can't ignore anymore. Known for its blazing-fast fire rate and remarkable mobility, the MX9 is a beast in close-quarters combat. Though criticized for its small magazine size, this limitation becomes a non-issue in solo play, where you're generally engaging one enemy at a time.
Best Lockwood 300 Warzone Loadout for Solo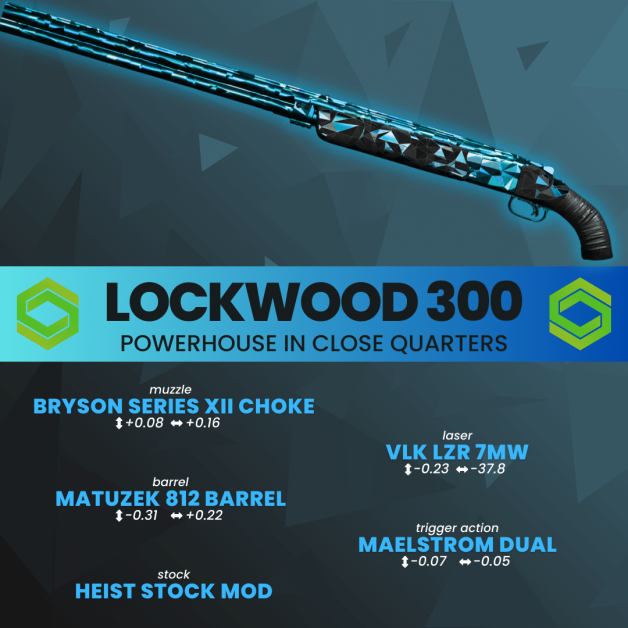 Ah, the Lockwood 300. It's the shotgun that players either love or dread. Known for its one-shot capability, it can instantly tilt the scales in your favor in a solo game. The ability to down an opponent with a single well-placed shot makes the Lockwood 300 a formidable weapon in the right hands. However, remember that it has limited range, so you'll want to pair it with another weapon suitable for longer engagements.
Best Kastov 762 Warzone Loadout for Solo
When it comes to balancing all the essential criteria in a primary weapon—time-to-kill (TTK), mobility, recoil—the Kastov 762 stands head and shoulders above the competition. This assault rifle is the current meta for a reason; it's incredibly well-rounded and serves as an excellent primary weapon for any game mode, including solo.
Best Tr-76 Geist Warzone Loadout for Solo
The TR-76 Geist is a relatively new addition to Warzone's roster of assault rifles, but it has already made a significant impact. Released in Season 6, this weapon is quickly becoming a favorite among players, particularly those who favor solo gameplay. Its ease of use combined with performance metrics similar to the Kastov 762 positions the Geist as a serious contender for the title of the real meta weapon in Warzone.
Best MCPR-300 Sniper Warzone Loadout for Solo
The MCPR-300 stands as the best one-shot sniper in Warzone, particularly after its recent stealth buff. The gun's bullet drop is more than manageable, making it a reliable choice for long-range engagements. The MCPR-300's one-shot kill capability makes it a lethal tool in the hands of a skilled player. Its recent stealth buff has only cemented its position as the go-to sniper rifle in Warzone, especially for solo play.
Best Lachmann Sub Warzone Loadout for Solo
The Lachmann Sub has been a dominant force in the Warzone meta for months. With an incredibly deadly time-to-kill (TTK) and ease of use, this SMG is almost unrivaled, especially in solo play. Given its track record, it's hard to see any weapon dethroning the Lachmann Sub anytime soon. Its attributes make it the ultimate close-quarters weapon in Warzone, and its effectiveness is amplified in solo play, where quick TTK is paramount.
Best ISO 9mm Warzone Loadout for Solo
The ISO 9mm is a recent addition to Warzone, coming onto the scene alongside the TR-76 Geist. Surpassing its bigger sister, the ISO 45, in almost every way, this new SMG has quickly climbed the ranks to become part of the meta. The ISO 9mm offers a host of advantages, including a quick TTK, excellent mobility, and a solid mag size. It's a versatile weapon that shines in solo play, making it a top choice for your loadout.
Best Chimera Warzone Loadout for Sniper Support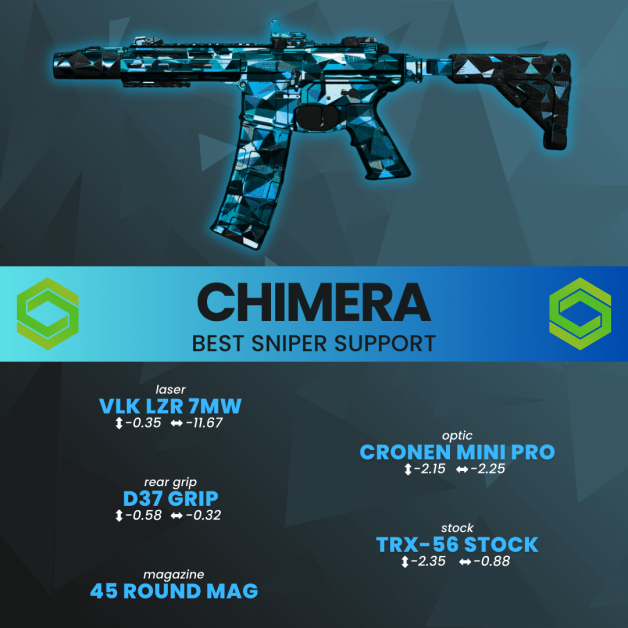 The Chimera serves as the best sniper support weapon in Warzone. It offers a balanced mix of fire rate, accuracy, and damage, making it a reliable secondary to pair with any sniper rifle. The Chimera's attributes make it a natural fit for players who prefer a sniper and secondary combo. It complements a sniper loadout excellently, offering versatility for mid-range engagements.
Best M13C Warzone Loadout for Sniper Support
The M13C is another excellent sniper support weapon. With a rapid fire rate and decent accuracy, it's a solid option for those who prefer to keep their distance but still need a reliable secondary. The M13X serves as an excellent support weapon to pair with a sniper rifle. Its rapid fire rate and decent accuracy make it a reliable secondary for long-range players, especially in solo scenarios where you might need to switch weapons quickly.
Additional Tools
For a more personalized experience, download the iOS and Android app called Warzone loadout CODMunity. With over a million downloads, this app is the best tool available on the market to easily find the best loadouts for any Warzone mode. Not only can you find top-rated setups, but you can also track rankings, the top 250 in Ranked Play, and even unique camo stats!
In Conclusion
In the end, finding the perfect loadout for Warzone solo play is a task that requires a mix of individual playstyle, current meta trends, and the shifting dynamics of the game. Tailoring your setup to both your comfort level and the game's ever-evolving meta can make all the difference in those tense one-on-one encounters. From the STB 556's reliability in mid to long-range fights to the close-quarters dominance of the MX9, the right setup can be a game-changer. We've covered a wide range of options, each excelling in different aspects of solo play, but the key takeaway is to find what works best for you. For an even more personalized approach, check out the iOS and Android app Warzone loadout CODMunity. With over a million downloads, this invaluable tool helps you pinpoint the ideal loadouts for not just solo play, but for any Warzone mode, all while keeping track of rankings, top 250 in Ranked Play, and unique camo stats. Elevate your solo Warzone experience today with the right tools and the right builds.