When the battlegrounds call in Modern Warfare 3 (MWIII) multiplayer, the swift and the strategic dominate. Submachine Guns (SMGs) are the lifeblood of the agile warrior, crucial for those high-adrenaline, close-quarters confrontations. The right SMG loadout can mean the difference between victory and defeat. In this essential guide, we unveil the top 3 SMG loadouts that will have you topping scoreboards and leading your team to glory.
1. WSP SWARM Loadout – The Agile Dominator
The WSP SWARM's 4.6m effective range may seem modest, but in the hands of a skilled operator, it's a buzzsaw that cuts through the chaos of battle with precision. Its rapid 230ms time-to-kill (TTK) makes it a top pick for players who prefer a hit-and-run playstyle.
Best Loadout for WSP Swarm in MWIII Multiplayer:
Muzzle: SHADOWSTRIKE SUPPRESSOR
Barrel: WSP RECKLESS-90 LONG
Optic: MK. 3 REFLECTOR
Stock: WSP FACTORY
Magazine: 40 ROUND MAG
The WSP Swarm excels in fast-paced skirmishes where mobility is key. This loadout optimizes for a balance of speed and offensive capability, perfect for Versatile and Close Range playstyles.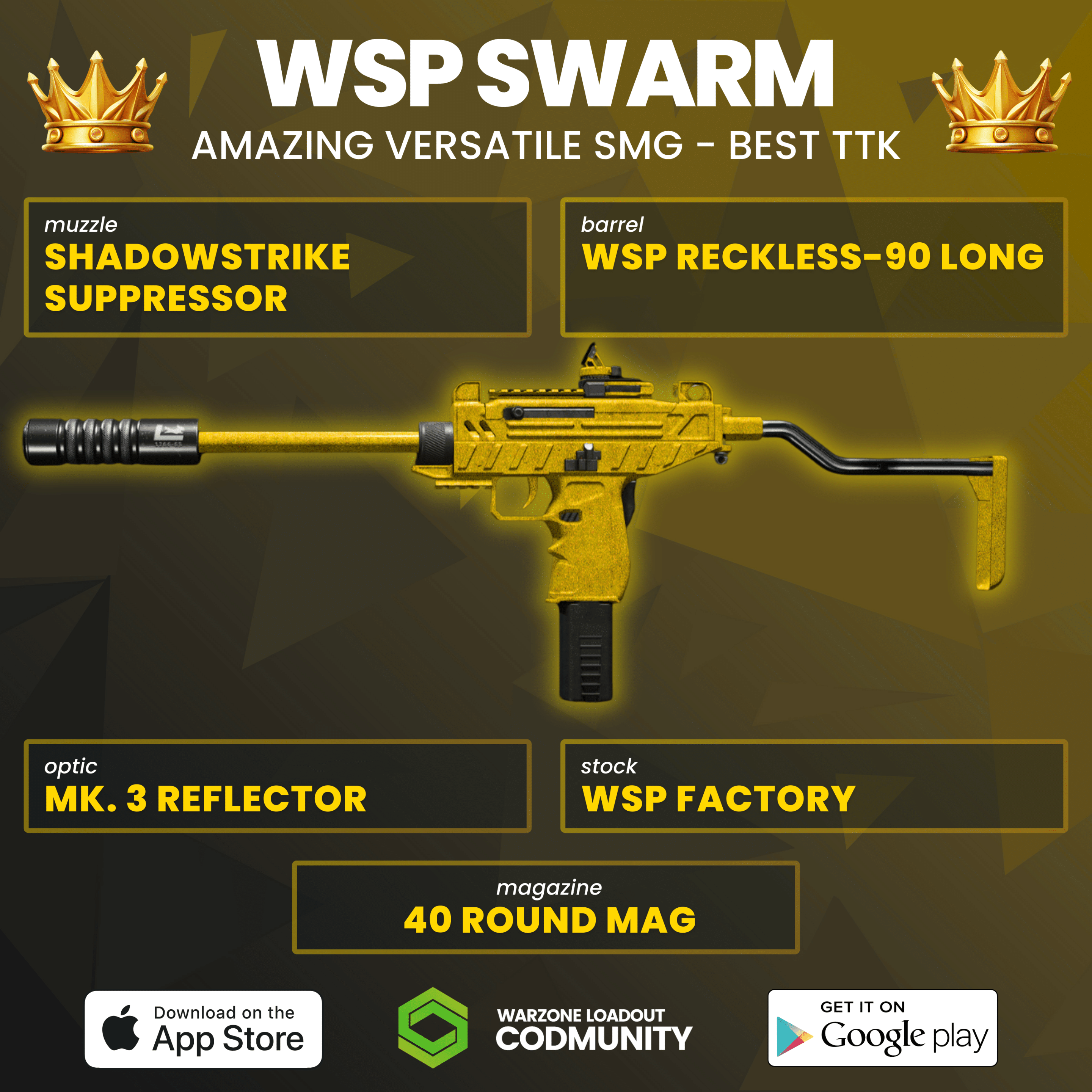 2. RIVAL-9 Loadout – The Balanced Powerhouse
Boasting a 10.2m effective range and a 287ms TTK, the RIVAL-9 is the jack-of-all-trades in the SMG category. It's built for operators who demand a weapon that adapts to any situation, from room-clearing to mid-range shootouts.
Best Loadout for Rival-9 in MWIII Multiplayer:
Muzzle: SHADOWSTRIKE SUPPRESSOR
Barrel: RIVAL-C CLEARSHOT
Stock: BRUEN FLASH V4 STOCK
Magazine: 40 ROUND MAG
Rear Grip: RIVAL VICE ASSAULT GRIP
The Rival-9 is a featherweight powerhouse, offering unparalleled agility without sacrificing firepower. This versatile loadout will ensure you're equipped for any encounter.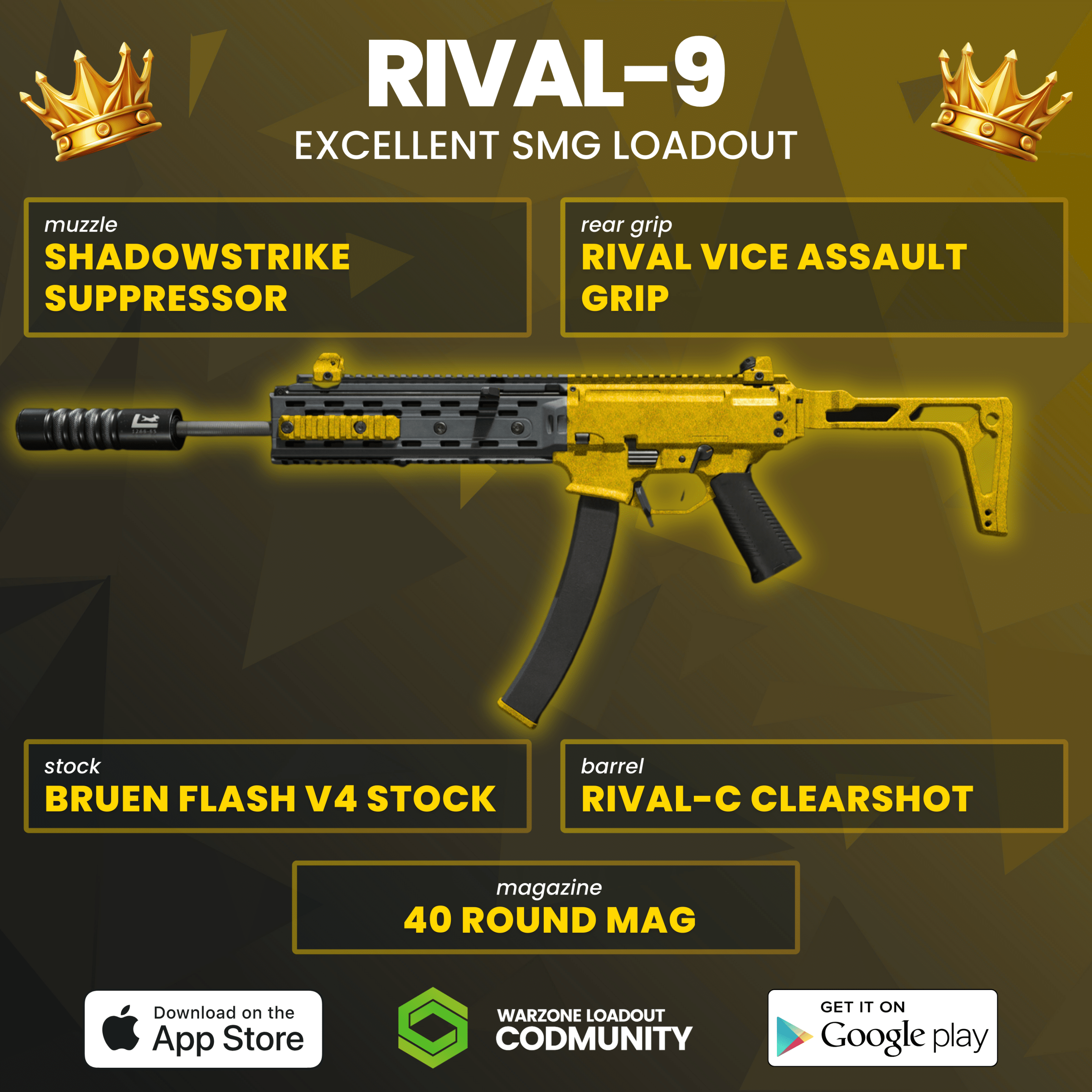 3. STRIKER Loadout – The Close-Combat Specialist
With a 9.7m effective range and 297ms TTK, the STRIKER is your go-to for aggressive, in-your-face combat. The STRIKER's configurations cater to both Versatile and Close Range specialists, offering a robust suite of attachments to bolster its natural power.
Meta Striker Build for Versatile Playstyle:
Muzzle: SHADOWSTRIKE SUPPRESSOR – Keeps engagements quiet.
Barrel: STRIKER ELITE LONG – Boosts range and accuracy.
Stock: STRIKER FACTORY – Stabilizes the weapon during movement.
Magazine: 40 ROUND MAG – Extends battles without reloading.
Rear Grip: SAKIN ZX GRIP – Enhances aiming stability.
Meta Striker Build for Close Range aggressive Playstyle:
Muzzle: SHADOWSTRIKE SUPPRESSOR – For silent takedowns.
Laser: PRO SAPPHIRE CYLINDRICAL LASER – Improves hip fire accuracy.
Stock: NO STOCK – Maximizes mobility.
Magazine: 40 ROUND MAG – Ideal for extended engagements.
Rear Grip: SAKIN ZX GRIP – Assists in quick aim down sights.
A hard-hitting and controllable submachine gun chambered in .45 Auto. The STRIKER's loadouts are designed for reliability at close to mid-range. Whether you're holding down an objective or pushing the frontline, these builds will serve you well.
Conclusion:
These top-tier SMG loadouts for "Modern Warfare 3" multiplayer are engineered to enhance your gameplay and increase your combat effectiveness. By tailoring each weapon to specific combat scenarios, you can leverage their strengths to outmaneuver and outgun your opponents. Test these loadouts, tweak them to fit your personal style, and watch as your performance on the battlefield transforms. Share your experiences and victories with us and become a part of the elite MWIII community. Ready up, soldier – it's time to rewrite the rules of engagement.