This is not the absolute meta loadout (NZ41 and Marco 5) yes, but the Bruen MK9 and Sten loadout is actually super powerfull and competitive. It's great to see a Modern Warfare weapon like the Bruen coming back into the meta mix for long range. And the Sten is also an underrated gun right now after the several nerfs of other SMG!
Best Bruen MK9 Warzone Loadout
Not much of a choice here, you need the standard Modern Warfare attachments to optimize the Bruen:
Muzzle: Monolithic Suppressor
Barrel: XRK Summit 26.8″
Laser: Tac Laser
Optic: VLK 3.0x Optic
Magazine: 60 Round Mags
Only difference with other Modern Warfare guns, is the Tac Laser instead of the commando foregrip. It's a must on the Bruen mostly for ADS and mobility purposes to be able to compete with the absolute meta NZ41.
Best Sten Warzone Loadout
Sten is the outsider in the SMG meta, and never really got the chance to shine. But when you look at the stats, the Sten is super consistent and has ttk more than competitive against the meta Marco 5 or h4 Blixen.
Muzzle: Recoil Booster
Barrel: SA 65mm Rapid
Optic: SA 32S (or Slate Reflector)
Stock: Gawain Custom
Underbarrel: Mark VI Skeletal
Magazine: 9mm 50 Round Drums
Rear grip: Taped grip
Perk 1: Steady
Ammo type: Subsonic
Perk 2: Quick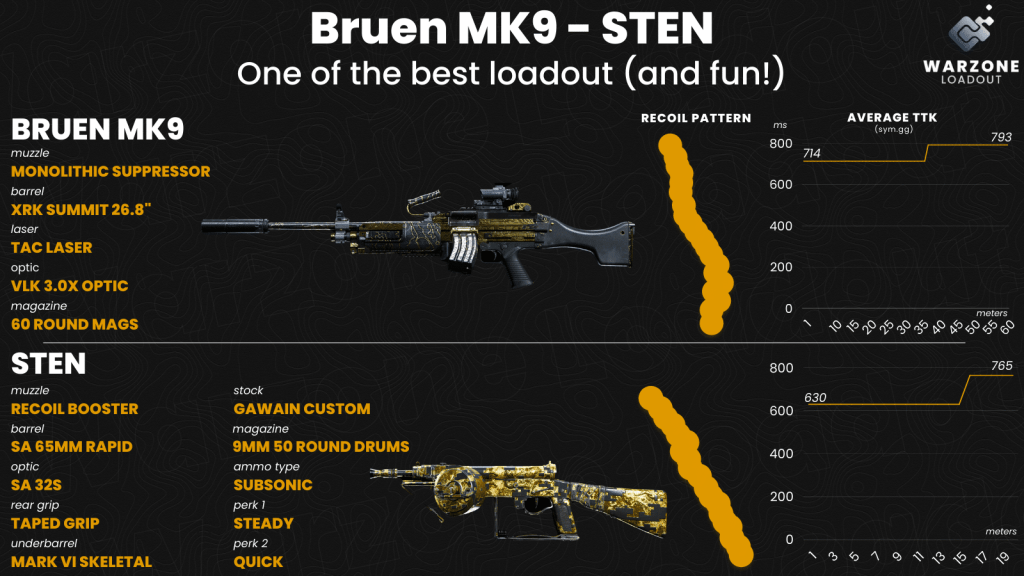 That's it! Make sure to share the article and the website if you enjoy the content 🙂