The Armaguerra 43 is one of the best SMG in the game right now, and is arguably the absolute meta. Depending on the barrel you choose, you will not experience the same feeling at all. Wether you prefer focusing on time to kill, movement speed or lowest recoil possible, this article will guide you for your barrel selection.
Armaguerra barrel comparison
This analysis is the kind of content that you can expect on a daily basis on my social and especially on Twitter or Instagram.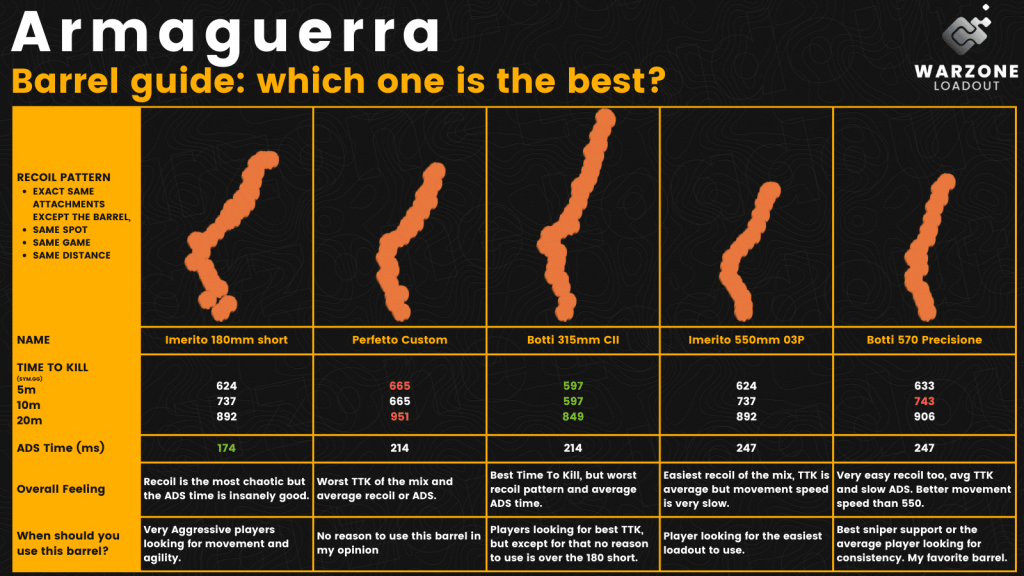 Imerito 180mm short
This barrel is currently one of the most recommended by the streamers and pro player. The recoil is the most chaotic of all the barrel, but the ADS time is insanely good. Overall, i recommend to use this barrel if you are a very Aggressive players looking for movement and agility.
Perfetto Custom
No reason to use this barrel in my opinion. The time to kill is the worst of them all, recoil and ADS are average. Not much more to say here..
Botti 315mm CII
I see a lot of people using this barrel, probably because this barrel is quite hybrid. Best Time To Kill, but worst recoil of all the barrels. I personally prefer the Imerito Short for aggressive gameplay for the packed recoil and great movement speed.
Imerito 550mm 03P
The easiest barrel to use on the Armaguerra! If you feel like no matter what you do, the Armaguerra is to shaky, then the Imerito 550mm 03P the barrel for you. However it will feel very slow in terms of movement compared to the next one.
Botti 570 Precisione
This barrel is the one that will offer you the most consistent gameplay. The recoil is almost similar as the Imerito 550 but the mobility is almost identical than the Imerito 180mm short. This makes the Botti 570 precisione the best sniper support barrel for the Armaguerra, but also the best barrel to use when looking at something nice to use.
Best Armaguerra 43 Warzone Loadout
Close Range
Sniper Support
Strafe Speed
Credit: stats are coming from sym.gg!