The Modern Warfare 3 (MW3) Beta has finally arrived on PlayStation, and it's safe to say that the gaming community is buzzing with anticipation and excitement. For years, the Call of Duty franchise has been a cornerstone of the FPS genre, and the latest installment promises to uphold that legacy. The MW3 Beta brings back the classic movement mechanics that fans have loved, coupled with the adrenaline-pumping action that has become synonymous with the series. Adding to the allure are the new maps, including Favela, Estate, Skidrow, and Rust, which offer a blend of fresh and nostalgic experiences. These maps are intricately designed, providing diverse combat scenarios that will test your skills and adaptability. However, as is the case with any new beta, leveling up weapons to unlock their full potential can be a time-consuming endeavor. That's why we've put together this comprehensive guide, aiming to give you a leg up in the competition by detailing the best loadouts and builds for key weapons in the MW3 Beta.
MCW – The Assault Rifle King
If you're a fan of the classic ACR or the Kilo 141, then you're in for a treat with this new adaptable assault rifle chambered in 5.56. This weapon features exceptional recoil control and versatility, all packed into a lightweight frame. It's a gun that brings nostalgia and performance into the Modern Warfare 3 Beta, offering a balanced setup that can dominate in various situations.
Best MCW Loadout in MW3 Beta
Muzzle: VT-7 Spiritfire Suppressor
Barrel: KR Midnight 13″
Optic: MK. 23 Reflector
Magazine: 40 Round Mag
Rear Grip: RB Talon-X3 Grip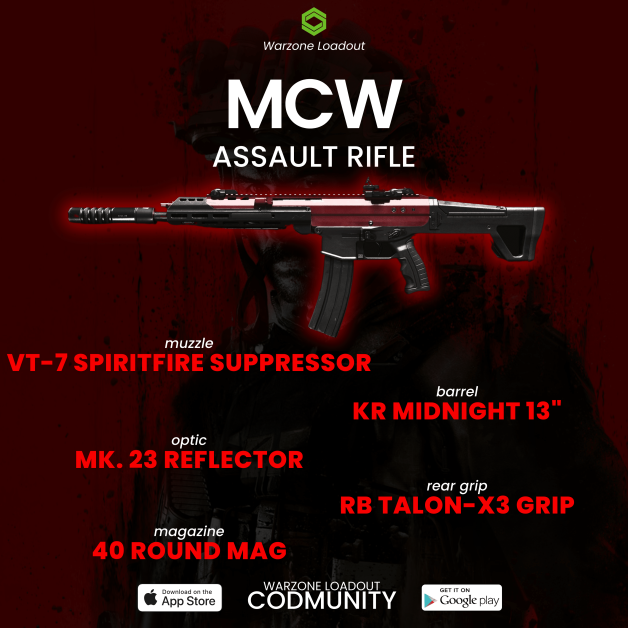 –> MCW best loadouts for Warzone, Ranked and Multiplayer.
Striker SMG – The All-Rounder
The Striker SMG in the Modern Warfare 3 Beta is a standout weapon that you won't want to overlook. Chambered in .45 Auto, this submachine gun delivers both power and control, making it a reliable and versatile choice for close to mid-range combat scenarios. Whether you're aiming for long shots on the rooftops of Estate and Favela or diving into close-quarters battles in Skidrow's center building, the Striker is exceptionally well-suited for the task. Its .45 Auto chambering ensures a balanced blend of firepower and manageability, allowing you to adapt effortlessly to various maps and combat situations.
Best Striker Loadout in MW3 Beta
Muzzle: Monolithic Suppressor
Laser: Sapphire-12 Laser
Optic: MK. 23 Reflector
Stock: Lachmann Recon Series
Magazine: 60 Round Mag
–> Striker best loadouts for Warzone, Ranked and Multiplayer.
Rival-9 – The Mobile SMG
If you're in search of a weapon that specializes in agility and quick room-clearing capabilities, look no further than the Rival-9 SMG in the Modern Warfare 3 Beta. This lightweight submachine gun, chambered in 9mm, is tailor-made for players who thrive on fast-paced gameplay. Whether you're maneuvering through the narrow corridors of Skidrow or swiftly clearing rooms on the Estate map, the Rival-9 stands out as a formidable choice. Its high mobility and rapid-fire capabilities are complemented by its 9mm chambering, which provides the perfect balance of speed and firepower for efficient room clearing. Designed with agility in mind, the Rival-9 is an excellent pick for those who favor a run-and-gun playstyle, allowing for seamless adaptability in various close-quarters combat scenarios.
Best Rival-9 Loadout in MW3 Beta
Muzzle: Monolithic Suppressor
Optic: MK. 23 Reflector
Stock: RB Crotalus Assault
Magazine: 40 Round Mag
Rear Grip: Rival Vice Assault Grip
–> Rival-9 best loadouts for Warzone, Ranked and Multiplayer.
Other Guns in MW3 Beta
Here's a list of other guns available in the MW3 Beta, categorized for your convenience:
Assault Rifles: SVA 545, MTZ-556, MCW
LMGs: Pulemyot 762, Holger 26
Pistols: Renetti
Shotguns: Riveter, Lockwood 680
SMGs: WSP Swarm, AMR9, Striker, Rival-9
Snipers: Longbow, KV Inhibitor
Battle Rifles: MTZ-762, Bas-B
Marksman Rifles: MTZ Interceptor, MCW 6.8
–> Best loadouts and meta ranking for the MW3 beta here.
Conclusion
As we wrap up this extensive guide, it's clear that the MW3 Beta offers a rich arsenal of weapons and loadouts designed to cater to a wide array of playstyles. Whether you're a seasoned Call of Duty veteran or a newcomer eager to make your mark, there's a weapon and loadout that's just right for you. From the MCW's exceptional versatility to the Striker's balanced power and the Rival-9's agility, each weapon serves a unique role on the battlefield. These loadouts are not just random combinations; they are carefully crafted setups designed to give you a distinct advantage in various combat scenarios, be it long-range engagements or close-quarters battles. And as the beta continues to evolve, so will the meta. New weapons and attachments will be introduced, necessitating ongoing adjustments to your loadouts. Therefore, consider this guide a living document that we'll continue to update as more information becomes available. So, equip your favorite loadout, jump into the new maps, and let's dominate the MW3 Beta together!
Warzone Loadout CODMunity App
Don't forget to check out the Warzone loadout CODMunity app available on iOS and Android. With over a million downloads, this app is the best tool available on the market to easily find the best loadouts for any Warzone mode. It also offers rankings, top 250 in ranked play, a unique camo tracker, and much more!