Modern Warfare 3 (MW3) has always been a battleground for players to showcase their skills, and with the latest game update, the meta has seen some significant shifts. In this comprehensive guide, we dive into the absolute meta of MW3, detailing the top weapons across various categories and their optimal loadouts.
1. Holger 556: The Unrivaled AR
The Holger 556 stands out as the best Assault Rifle (AR) in MW3. Its unique attribute of no damage drop makes it a formidable choice in competitive scenes, so much so that it's often not used in competitive play due to its overwhelming advantage.
Holger 556 Loadout
Muzzle: Shadowstrike Suppressor
Optic: Slate Reflector
Stock: RB Addle Assault Stock
Underbarrel: Bruen Heavy Support Grip
Magazine: 40 Round Mag
2. Bas-B: The Best Primary Weapon
When considering all weapon categories, the Bas-B Battle Rifle emerges as a top contender. Its power and reliability make it an exceptional choice for players looking for versatility and effectiveness.
Bas-B Loadout
Muzzle: Shadowstrike Suppressor
Barrel: Wyvern's Respite Long
Underbarrel: Bruen Heavy Support Grip
Magazine: 45 Round Mag
Rear Grip: STT88 Grip
3. Rival-9: Dominating SMG Class
The Rival-9 shines as the best Submachine Gun (SMG) in MW3. It's praised for its reliability and versatility, adapting seamlessly to various combat situations.
Rival-9 Loadout
Muzzle: Shadowstrike Suppressor S
Stock: EXF Close Quarters Assault
Underbarrel: Chewk Angled Grip
Magazine: 40 Round Mag
Rear Grip: Rival Vice Assault Grip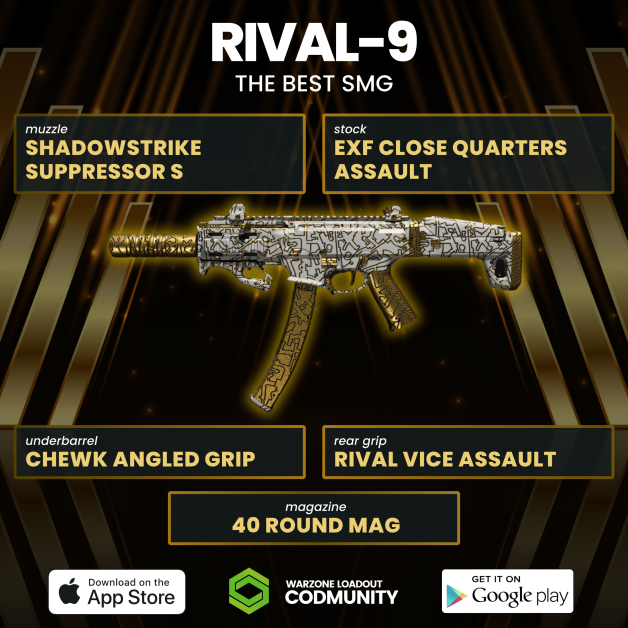 4. Longbow: The Sniper's Choice
For snipers, the Longbow is the go-to weapon. Its mobility and quickscoping capabilities, combined with the requirement for precision, make it a favorite among sharpshooters.
Longbow Loadout
Barrel: Pro-99 Long
Stock: No Stock
Magazine: 10 Round Mag
Ammunition: 7.62x39mm High Grain
Rear Grip: Demo 650
5. DG-58: A Formidable Burst AR
Another excellent choice in the AR category is the DG-58. Known for its burst fire, this weapon provides a balance of power and control, ideal for players who prefer precision over spray and pray.
DG-58 Loadout
Muzzle: Shadowstrike Suppressor
Barrel: CDG T-25 Light
Optic: Slate Reflector
Underbarrel: Bruen Heavy Support Grip
Rear Grip: Varanus Steady Grip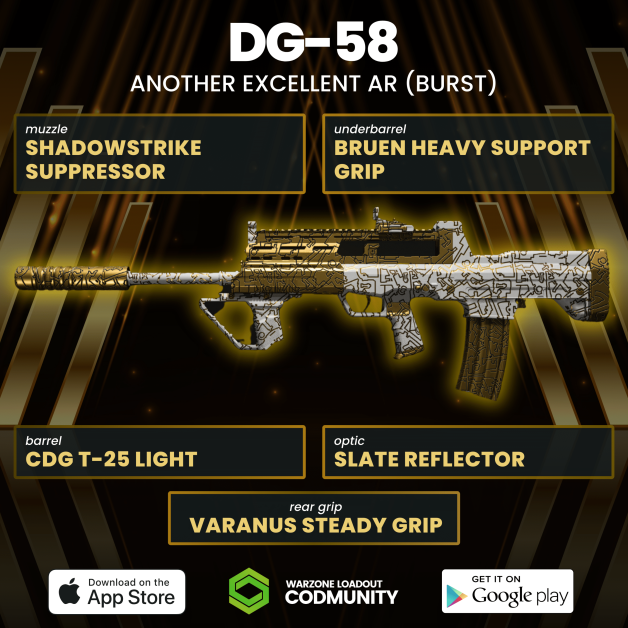 Conclusão
The current meta in MW3 multiplayer offers a diverse range of weapons that cater to various playstyles. From the dominant Holger 556 to the versatile Bas-B and the precise Longbow, each weapon, when equipped with the right loadout, can turn the tide of battle in your favor. Remember, the key to mastering MW3 is not just about having the right weapons but also understanding your playstyle and adapting your strategy accordingly.